Club Leaders
President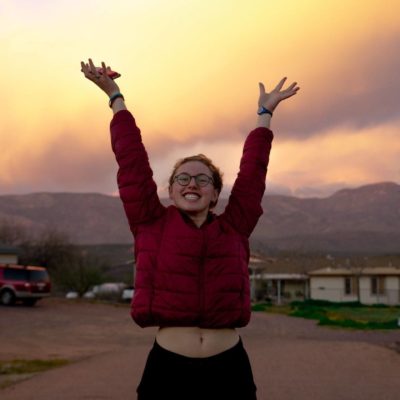 Ansley Laev
Hi y'all! My name is Ansley Laev, and I am the Outing Club President. I am a Gender & Women's Studies major and study Italian and Spanish on the side. I'm from Mequon, WI and grew up canoeing in the blissful Northwoods. I now work as a supervisor and tripping guide up north at Camp Manito-wish during my summers, and I lead backpacking and canoeing trips through Hoofers when I have a free weekend. I'm always down for a good book recommendation or a paddle with a friend, so come chat with me during my office hours on Wednesdays from 2-4 pm in the Mendota Lodge, or contact me at outingpresident@hoofers.org.
Vice Preisdent
Emma Johnson
I am a third-year nursing student with a passion for all things paddling, backpacking, camping, hiking, and adventure related. The outdoors has been an integral part of my life ever since my father introduced me to the Boundary Waters Canoe Area as a young child. Successfully portaging a canoe at the age of 12 was my single greatest accomplishment in sixth grade! Contact me at vicepresident@hooferouting.org
Land Safety Chair
Leah Rosenblum
Hey y'all! My name is Leah Rosenblum and I am a backpacking leader in addition to being the Land Safety chair. I am a junior and majoring in economics and environmental studies. I grew up always loving the outdoors and when I got to college I finally went on my first backpacking trip! Ever since, Hoofers has been a home for me here and I have had the opportunity to do so many incredible new things. Contact me at landsafety_hooferouting.org@wisc.edu or come find me at an outing club meeting!
Land Safety Chair will be open in Spring 2020, email president@hooferouting.org for more info!
Water Safety Chair
Caroline Rose
I have been paddling, camping, and spending time in the great outdoors my whole life, so when I joined Hoofers as a freshman student in 2009, it felt like home. I am especially involved in Hoofer whitewater trips, paddling both kayaks and open canoes. I am currently serving as a Water Safety Co-chairperson, so I approve all boating trips and trip leaders. Contact me at watersafety@hooferouting.org
Treasurer
Sophie Lackner
My name is Sophie Lackner and I am currently the Hoofers Outing Treasurer and a backpacking trip leader. I am originally from the beautiful Bannockburn, Illinois where my passion for hanging out outside truly began. My goal this year as treasurer is to make trips more accessible to a wide array of students here at UW-Madison. Contact me at treasurer@hooferouting.org!
Secretary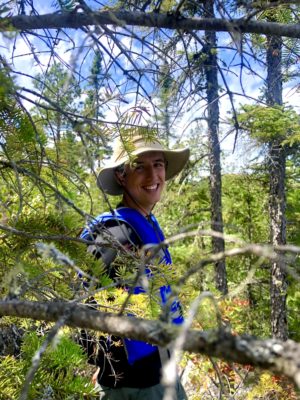 Otto Anson
Hi! My name is Otto and I am a sophomore studying Chemical Engineering with a certificate in German. In Hoofers, I am the secretary of the executive board as well as the canoe activity co-chair. I joined Hoofers second semester freshman year and before that I had never even slept in a tent. Since then, I met some great people through the club who recommended me to a summer job as a trail guide in the Boundary Waters. Over the summer I fell in love with the outdoors, camping, and especially canoeing and portaging! My favorite Hoofers activities include persuading people to canoe with me and whitewater canoeing because it is so fast-paced and requires me to be very focused and on my toes! Contact me at secretary@hooferouting.org or canoeing@hooferouting.org

Equipment Co-Chair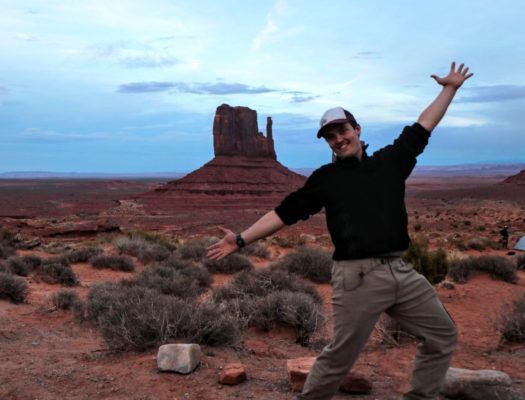 Forrest Ahrens
My name is Forrest. I'm a sophomore at UW studying Mechanical Engineering. I am currently both one of the Co-Canoe and Co-Equipment Chairs for Outing Club! I've spent time paddling in the outdoors all my life (mostly in northern Minnesota) and have recently got into all sorts of other outdoor activities through Outing Club. My favorite Hoofers activity is any trip where I get to watch a sunset over the water and come back dirty but smiling. Contact me at canoeing@hooferouting.org or equiptment@hooferouting.org
Instruction Co-Chair
Laura Arneson
Hello hello! My name is Laura and I am a senior studying Geological Engineering and Geoscience. As one of the Instruction Chairs for Hoofer Outing, I am working to promote leadership development in the club. At 12 years old I was introduced to the outdoors via the Boundary Waters Canoe Area Wilderness and have been lucky enough to return each summer since. Canoeing is probably my favorite Outing Club activity, whether it's a weekend in the Upper Peninsula of Michigan or an afternoon paddle on Lake Mendota. Contact me at instruction@hooferouting.org
Equipment Co-Chair / Instruction Co-Chair
Evan Fernandez
I'm the Equipment Manager, a Co-Instruction Chair, and I lead backpacking trips as well as participate in other activities. Let's just say a large amount of my life is devoted to Hoofer Outing. Contact me at equipmentchair@hooferouting.org
Marketing Chair
Ella Langer
Hi there! I'm Ella, the marketing chair, and I am a junior from Minnesota studying Environmental Science and Spanish. Hopelessly obsessed with being outside, I have decided to try and make a future career out of it…so wish me luck! I absolutely adore hiking and backpacking, and am a BPL4 trip leader with Hoofer Outing. My favorite place in the universe to be is on a mountain, whether a baby one on the Superior Hiking Trail or 14ers in Colorado. If you want to hang out, ask a question, send me awesome trip photos, or have an idea for me, shoot me an email at marketing@hooferouting.org

Social Co-Chair
Annie Stimmel
My name is Annie. I'm a sophomore at UW studying Communications with a Global Health Certificate. I am currently one of the Officers of Diversity & Inclusion for Hoofers, as well as the Co-Social Chair for Outing Club! I've always gone to/worked at summer camps and skied, but really got into the outdoors in this past year with Outing. Now... I'm committed a lifetime outside. My favorite Hoofers activity is any trip that results in sitting around a campfire with good friends. Contact me at social@hooferouting.org
Social Co-Chair
Saige Ruleau
Hey there, I'm Saige! I'm a senior studying environmental studies, zoology, and American Indian studies. I enjoy getting new and old friends together in nature with my position as the co-social chair. After spending my childhood summers in a retro pop-up camper with my family and climbing pine trees in my backyard, I realized the outdoors was the place for me. I love going on Hoofer backpacking trips where the night sky is so clear and bright that it doesn't even look real, pure magic! Contact me at social@hooferouting.org
Webmaster
Julia Pletta
Hello! My name is Julia and I'm a Sophomore at UW currently pursuing International Business and Finance with a certificate in Spanish. I'm currently the Webmaster, which means I overlook and manage the Outing Club website! I started to get outdoors at a young age with camping and road trips with my parents, starting with Blue Mounds and extending to climbing Half Dome and backpacking in Alaska. In Hoofers I've done a wide range of activities from cross country skiing to whitewater kayaking to sea kayaking to backpacking and can't wait to do more with this amazing club! Contact me at tech@hooferouting.org